Passenger Elevator
Fuji Passenger Lift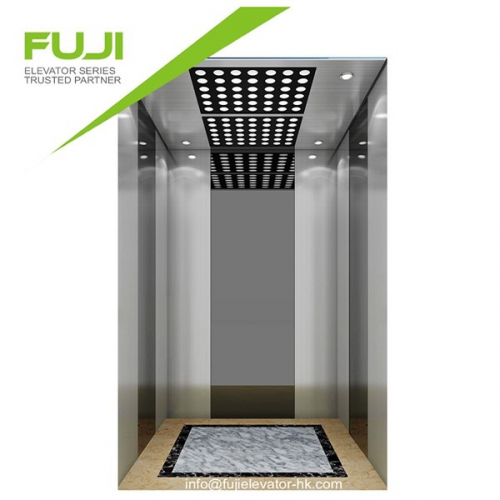 Type

Fuji Passenger Lift

Model

FJ-P

Brand

FUJI

Load

450-2000KG

Speed

0.5-2.5m/s
Fuji Elevator Company Limited is a modernized and professional lifts Manufacturers. Specializing in the production of various elevators such as FUJI Passenger Elevators who is famous for advanced tech
Fuji Elevator Company Limited is a modernized and professional lifts Manufacturers. Specializing in the production of various elevators such as FUJI Passenger Elevators who is famous for advanced technology and superior quality. As an advanced modernized transportation equipments manufacturer, FUJI introduced a series of the world's leading fully automated production lines. FUJI Commits to implement Industry 4.0 and reveals the enterprise in the field of "machine substitution" solid results.Nowadays FUJI Elevator is quite popular in SouthEast Asia, the Middle-East, Africa, South America and Etc.

High Technology Passenger Elevator
Smooth start, Quick and quiet Moving
FUJI VVVF drive ensures FUJI Passenger Elevator operate more smoothly. Nice noise control brings passenger peaceful riding experience. The start, acceleration, brake curves are designed according to the ergonomic theory in order to get the finest coziness. It is a genuine current vector control variable frequency drive system. The permanent magnetic synchronous drive saves up to 48% in energy consumption. The professional intelligent group control management system can control 8 elevators. The advanced artificial intelligent and traffic flow database technology increases greatly the traffic efficiency thus minimizes the waiting time.
High Precision Positioning Control System
Car displacement tracking technology ensures the leveling safety.
Car-displacement-detection technology with high accuracy makes almost perfect leveling between the car and the landing level.
Top Advanced Door Operator System
FUJI Passenger Elevator applies the advanced NICE900 VVVF variable voltage and variable frequency control technology to the elevator door operator system so as to ensure the smooth elevator door and quiet switch. What is more, the self-learning door load detector increases the sensitivity of the elevator door switching on/off. It monitors the variation of elevator door load on every floor. Automatically rectifying the most appropriate open / shut speed in every floor so as to guarantee the security and reliability.
Safe & Reliable
Reasonable machine room arrangement keeps sufficient maintenance space. Parts after reliability test ensure elevator run continuously stably.
The diverse and flexile car design of Fuji serial passenger elevator can combine with the multiple constructions into one. It is your best choice for the hotels, restaurants, office buildings, commercial and residential buildings, recreation centers, shopping centers etc.
Product Description:
1. Material: Painted, Hairline stainless steel, mirror, etched , Titanium gold, rose gold, golden recess, glass;
2. Capacity: 450KG ,630kg ,800kg ,1000kg, 1250kg, 1350kg, 1600kg, 1800kg, 2000kg;
3. Speed: 1.0m/s, 1.5m/s, 1.75m/s, 2.0m/s, 2.5m/s, 3.0m/s, 4.0m/s, 6.0m/s;
4. Machine Room: Machine Room (MR) or Machine Roomless (MRL)